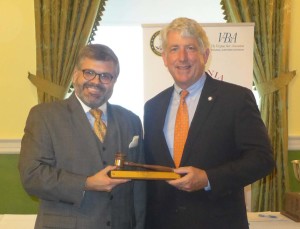 Richmond, VA.  May 6, 2015.  Ronald Page, PLC won the "Virginia Peanut Award" for the 2015 Legal Food Frenzy by raising 10,249 pounds of food for the Federation of Virginia Food Banks. The Virginia Peanut Award is awarded to the sole practitioner that raises the most food as part of the 2015 Legal Food Frenzy.  The Virginia Peanut Award was presented to Ronald Page by Virginia Attorney General Mark Herring.
"It is our moral obligation to help those in need, especially those that battle hunger on a daily basis. I am proud that my firm could play a small part in the success of the Legal Food Frenzy," said Ronald Page.
As part of this year's Legal Food Frenzy, law firms, legal departments, government offices, and law schools across Virginia joined together to raise the equivalent of more than 1.3 million pounds of food for Virginia's hungry during this year's statewide Legal Food Frenzy, a two-week drive in April to raise food and funds for Virginia food banks. This year's contributions bring the total raised during the annual drive to more than 12.7 million pounds over its nine years.